The state of the Mazda sedan has never been better. This year's Mazda sedan lineup features a dynamic duo of 2021 Mazda sedan models that drivers can't stop raving about. Learn more about the 2021 Mazda3 and 2021 Mazda6 in our guide to the most premier Mazda models available now in Marietta at the moment.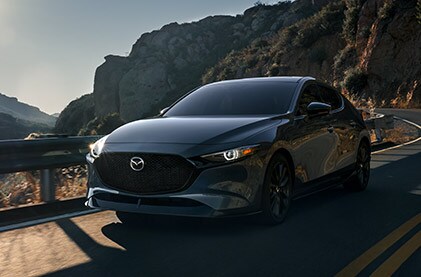 2021 MAZDA3
The Mazda3 checks all the boxes for families or solo drivers looking for a midsize marvel that goes above and beyond. It's available as both the sedan primarily discussed here and a hatchback as well. Solo drivers in particular will enjoy the everyday durability of a car that's crafted to be an efficient partner in crime. Take on the twists and turns of your schedule with ease inside a car that can handle an array of road and traffic conditions, changes of directions, and more.
---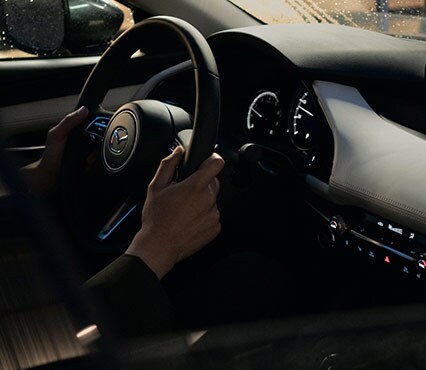 Available trims:
2.0 Sedan, 2.5 S Sedan, Select, Preferred, Premium, 2.5 Turbo, 2.5 Turbo Premium Plus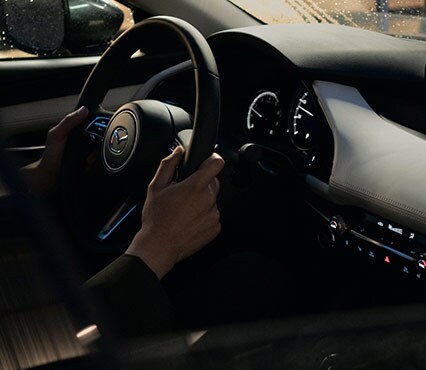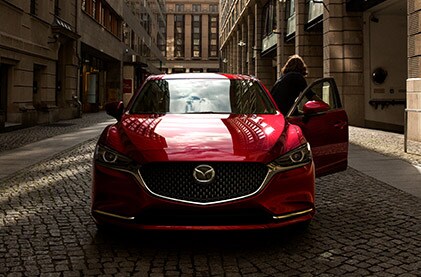 2021 MAZDA6
If you need some more room to move, select the new Mazda6 full-size sedan. You'll get some increased space up front and in the back for growing limbs, and there's more pep in the step of this engine than in the smaller model. A turbocharged engine roars to life with a lion's full throat and an intuitive driving and handling system funnels that power into efficient motoring.
---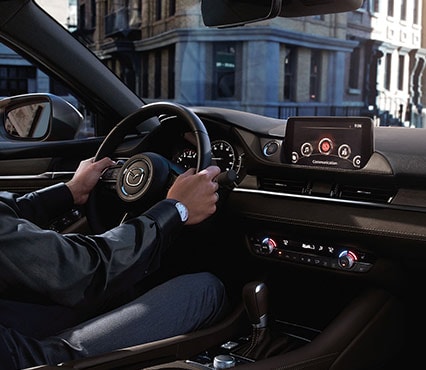 Available trims:
Sport, Touring, Grand Touring, Grand Touring Reserve, Carbon Edition, Signature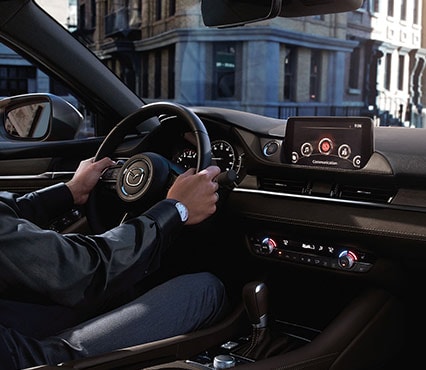 MAZDA Sedan Sizes & Models
Both of these stellar Mazda sedan models pack plenty of performance, prestige, and panache into their dramatically revealing designs. A striking front grille introduces these sleek silhouettes with a bang and the car that follows lives up to the bill. The frame is streamlined for maximum speed and premium materials that clothe the cabin in comfort. There's plenty of room to stretch out your arms and legs in both the midsize and fullsize cabin.
Compare the Mazda3 to the largest Mazda sedan from several standpoints. When you're ready, a member of our team will be happy to help match you up with the Mazda sedan in our new Mazda inventory that's destined for you.
The Midsize MAZDA3
After just one drive in the new Mazda3, you'll be planning trips far and wide. Adventure awaits anybody who decides to take on their next destination in this year's standout midsize Mazda model.
The Full-Size MAZDA6
The durable yet well-cushioned materials in the cabin make sure all your passengers love the ride from A to B. There is more cubic feet for luggage and passenger volume inside the Mazda full-size sedan cabin but no wasted space. Try on the Mazda6 for size and we're confident you'll love how it fits in your driveway after a couple of test runs.
MAZDA Sedan Matchup: Head To Head
Here's how these two new sweet sedans from Mazda stack up against each other in terms of price, trim levels, power and other useful measurements. Poring through these points will give you a better sense of which Mazda sedan model is meant for you.
| Comparison | 2021 Mazda3 | 2021 Mazda6 |
| --- | --- | --- |
| Starting Price | $20,650 MSRP1 | $24,475 MSRP1 |
| Trim Levels | Mazda 3 trim levels: 2.0 Sedan, 2.5 S Sedan, Select, Preferred, Premium, 2.5 Turbo, 2.5 Turbo Premium Plus, | Mazda 6 trim levels: Sport, Touring, Grand Touring, Grand Touring Reserve, Carbon Edition, Signature |
| Standard MPG | Mazda M3 2.0 Sedan MPG - EPA-estimated 28 miles per gallon in the city, 36 miles per gallon on the highway, and 31 miles per gallon combined2 | Mazda M6 Sport MPG - EPA-estimated 26 miles per gallon in the city, 35 miles per gallon on the highway, and 29 miles per gallon combined2 |
| Standard Horsepower | 2.0 Sedan - 155 hp @ 6,000 rpm | Sport - 187 hp @ 6,000 rpm |
| Number of Seats | 5 | 5 |
| Cargo Capacity (cu. ft.) | The Mazda3 has a cargo capacity of 13.2 cubic ft. in the sedan model, more is available in the Mazda3 hatchback | The Mazda6 has a cargo capacity of 14.7 cubic ft. |
As you can see, both models perform at the top of their class from several perspectives, including space for passengers to extend their arms, pound-for-pound power, and ample cargo room inside a silhouette crafted to go fast. Speed and style come together in a scintillating combination of forces across the Mazda sedan lineup.
Whether you're feeling zeroed in with laser-like focus on the next car set to make its home in your garage or still need some guidance narrowing down your options, our team of knowledgeable and friendly car geniuses would love to help. Give us a visit near Woodstock today and fly through the streets in a car you can call all your own as the wind of new opportunity rushes through your hair.
MAZDA Models In Marietta
In 2021, we're all hoping to turn over a new leaf. Get going on a journey towards future fun far from the house inside one of these special 2021 Mazda sedan models. The 2021 Mazda3 & 2021 Mazda6 are inspired by the lasting lineage of our pre-owned, certified Mazda sedans. These cars have had drivers' backs on their travels through life and the newest offerings from Mazda promise to do the same.
Come down to our do-it-all dealership near Woodstock today and take full advantage of our flexible Mazda sedan lease specials, which make getting into a new car immediately attainable across several price points and commitment terms.
We're very proud to be a staff of neighbors serving neighbors. Not only do the professionals on hand at our location know everything there is to know about both Mazda cars and their competition but they're also very familiar with how each model reacts to the local driving conditions and common challenges. They're an invaluable resource we cherish every day and we hope to put our best foot forward when we meet you near Atlanta, GA soon. We can't wait to meet you and send you home in a Mazda sedan you just can't stop telling everyone about.
1MSRP excludes tax, title, license fees and $995 destination charge (Alaska $1,040).
2EPA-estimated mileage. Actual results will vary.