2019 is here. That doesn't just mean an uptick in the sale of the new calendars. It means that dealerships like Jim Ellis Mazda of Marietta get the opportunity to introduce drivers to a selection of new 2019 models. Delivering a range of updates for the new year, the 2019 Mazda lineup offers a range of improvements aimed at offering drivers the superior experience they want when they go shopping for a new car.
If you're in the market for a new sedan or SUV, the new Mazda lineup at our dealership includes a number of the industry's most interesting and dynamic new models.

Take a Look at Mazda's 2019 Sedans and Cars
The 2019 Mazda Mazda3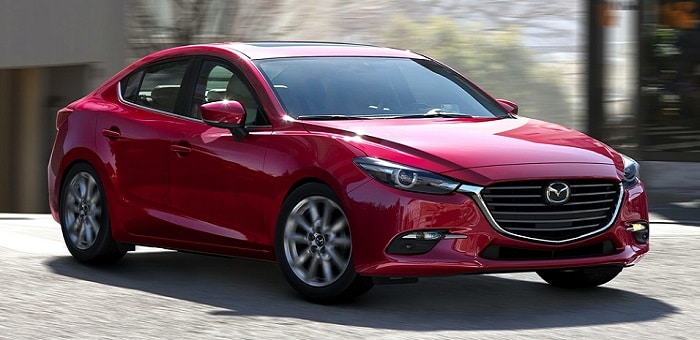 ​
Mazda's 2019 vehicle lineup will include a number of new cars. The 2019 Mazda3, for instance, offers an all-new package that's been rebuilt from the ground up to deliver an attractive and feature-rich vehicle. Adopting Mazda's KODO design standards, the new Mazda3 delivers a sleek aesthetic that's available as both a sedan and a hatchback.
The Mazda3 will also come with a 2.5-liter inline-4 engine. Capable of 184 horsepower with 185 pounds-feet of torque, it's the perfect companion for the car's graceful design. Combined with new options all-wheel drive and efficient Skyactiv engines, the Mazda3 will have everything you need to enjoy the agile driving experience Mazda cars are famous for.
And if you're looking for great features? The 2019 model won't disappoint. The new car will offer:
The Mazda Connect infotainment system with a standard 7.0-inch touchscreen interface.
Popular media control apps like Apple CarPlay and Android Auto.
An array of available safety and driver-assistance systems, including adaptive cruise control, automatic high-beams, lane-keeping assist, and standard automatic emergency braking.
The 2019 MX-5 Miata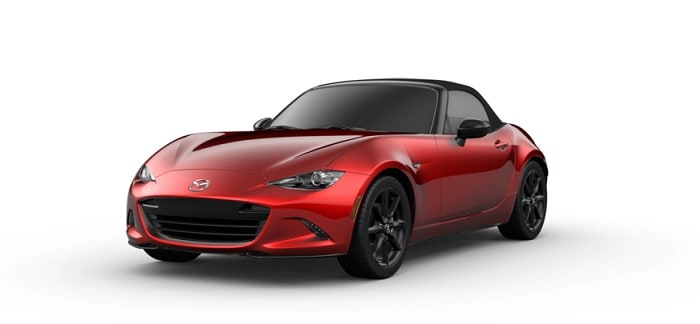 ​
Drivers hoping for more of a roadster than a car fit for the whole family will find a lot to love in the 2019's MX-5 Miata. This popular sports coupe returns with a stylish design that's anchored by an impressive selection of features.
These include:
The Mazda Connect Infotainment system with a touchscreen interface.
Comfort amenities like leather upholstery and heated seating seat.
Available safety features that range from low-speed collision avoidance braking to blind-spot warnings, rear cross traffic alerts, and more.
When you buy a car like the MX-5 though, equipment and features are far from the only thing driving your purchase. You drive home in a car like this because you want the tools to enjoy the road to its fullest.
And that's where the 2019 MX-5 really shines. While there are other coupes and cars out there that can offer more horsepower, you'll be hard-pressed to find another model that can tackle the road with the same level of precision. It wasn't built just to go fast when you're driving in a straight line. It was designed for drivers who want to explore winding roads and take tight corners in style.
And it's not even like it's a slouch in the performance department, either. Its 181 horsepower 2.0-liter inline-4 is perfectly suited to its size and design. If high speeds are what you want, the 2019 MX-5 Miata can get you there.

Take a Look at Mazda's 2019 SUVs
The 2019 Mazda CX-3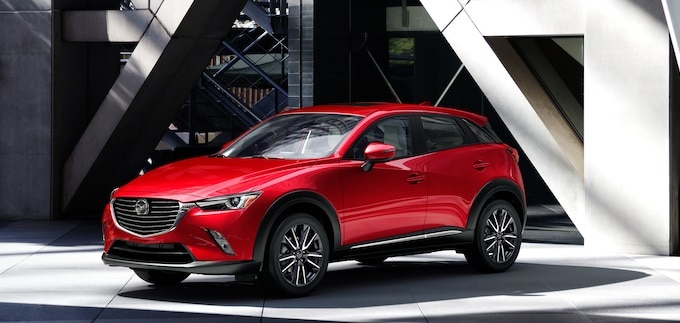 ​
Subcompact SUVs have been growing in popularity in recent years. Drivers of all sorts enjoy their affordable prices, as well as their unique combination of SUV versatility and smaller car efficiency.
The 2019 Mazda CX-3 offers a little something extra on top of those perks: sporty performance.
Whereas many subcompact models simply expect drivers to accept that they'll be getting a poorer standard of performance, the CX-3 makes up for its lower levels of under-the-hood muscle with an athletic performance that feels more nimble and precise than many of its same-class peers.
It also delivers a range of upscale equipment and features. Depending on the trim you invest in, you can enjoy the benefits of:
The Mazda Connect infotainment system with a standard 7-inch touchscreen.
Convenience features like automatic climate control, rain-sensing windshield wipers, and heated side mirrors
Safety technology including blind-spot monitoring, rear cross traffic alert, and more.
Attractive and dynamic, the 2019 Mazda CX-3 continues to provide one of the industry's most impressive subcompact options.
The 2019 Mazda CX-5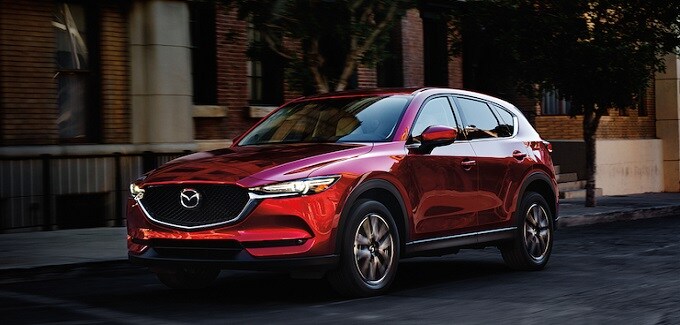 ​
A mainstream SUV designed to deliver the feeling of a premium vehicle, the 2019 CX-5 is poised to provide one of the most unique compact experiences on the road.
Its comfortable interior is decked out with premium materials and design that give it the look of a luxury model. Its chassis design is likewise sleek and lightweight. This gives it not just good looks, but also physical qualities that leave it well-equipped to deliver a level of performance that's far more athletic than the norm. That's doubly true if you hit the road with its optional 2.5-liter turbocharged inline-4 under the hood. Capable of 250 horsepower with 310 pounds-feet of torque, it's a robust engine option for a compact SUV.
The CX-5's offerings only get better when you look at its body of available equipment:
Its 7-inch touchscreen Mazda Connect infotainment system will come packaged with options for Apple CarPlay and Android Auto
Comfort and convenience options like keyless entry and ignition, rain-sensing windshield wipers, self-leveling headlights, heated seating, and more.
Available safety tech includes everything from adaptive cruise control and automatic high beams to lane-departure warnings and more.
With options for performance boosters like all-wheel drive also available, the CX-5 has all the tools drivers need to take control of a fun and capable driving experience.
The 2019 Mazda CX-9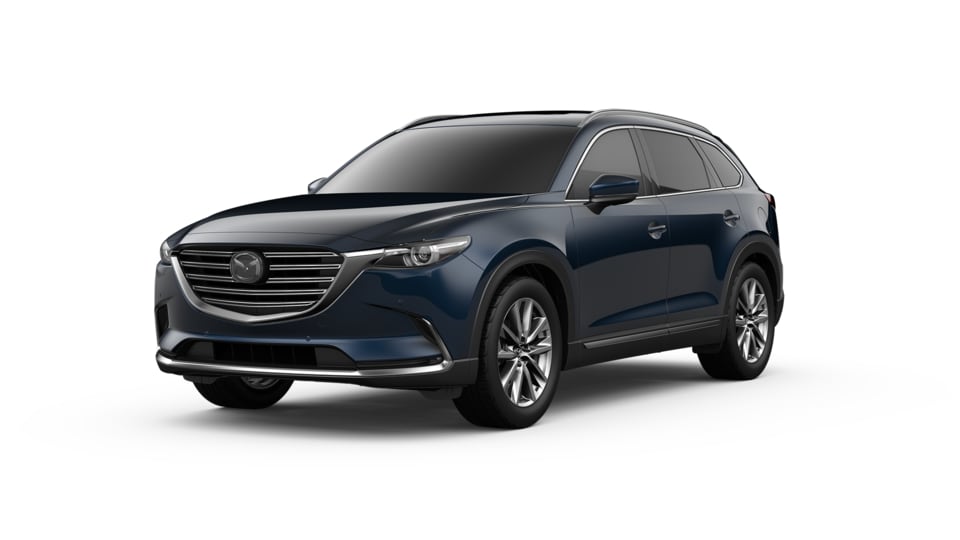 ​
The largest model in Mazda's overall lineup, the Mazda CX-9 has long been a favorite for family drivers interested in a mid-size SUV with superior handling and an excess of style.
Drawing on the same graceful style as the rest of the Mazda SUV lineup, the CX-9 feels like a smaller vehicle behind the wheel. Its lighter weight chassis helps it to handle more responsively on the road. If you're looking for a bigger SUV that can tackle tighter corners and winding roads, the CX-9 is it. Equipped with a standard 2.5-liter turbocharged inline-4, it can deliver performance peaks up to 227 horsepower with 310 pounds-feet of torque.
It's also a comfortable mid-size model with seating for up to seven and an interior packed full of rock-solid features. What can you expect to find?
Standard and optional comfort features like three-zone climate control, heated/ventilated seating, and leather trim options.
Active safety features like blind-spot warnings, rear-cross traffic alert, and smart brake support.
The Mazda Connect infotainment system with voice command and internet streaming radio.
As far as midsize options go, the Mazda CX-9 is one of 2019's best.
Come and Learn More About Mazda's 2019 Models Today
Is there a 2019 Mazda sedan or SUV you're interested in? Contact the sales team at Jim Ellis Mazda of Marietta. Our Mazda-brand experts would be happy to tell you more about our new Mazda inventory and all of our current and upcoming 2019 models.