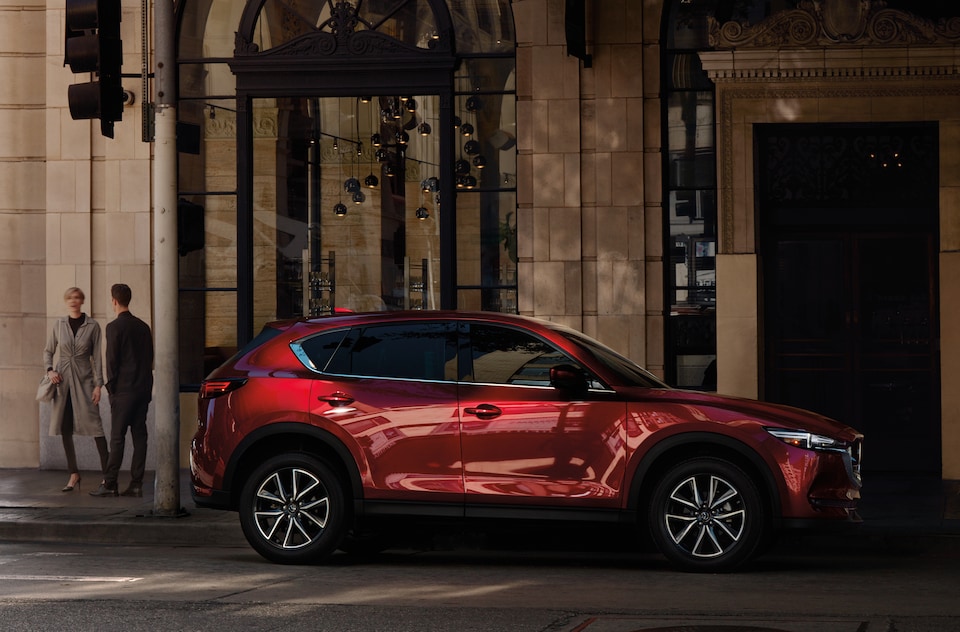 ?
There aren't a ton of unique models in the Mazda lineup, but car shoppers will still find that our new Mazda inventory is diverse enough that there is sure to be an offer in the style you're looking for. If you need the versatility and capability of an SUV, there are three great Mazda SUVs for you to consider, but which is the right one for you? The Mazda CX-3, Mazda CX-5, and Mazda CX-9 all fall into separate classes of SUVs, from subcompact to mid-size, so it's very likely that one of them has everything you need and want. Keep reading to see which one best matches your idea of a dream car!
What Does Every Mazda SUV Treat Drivers To?
Size, standard features, and engines are all areas where these three Mazda SUVs have some differences, but there are several traits that you can expect from each. Mazda models, even the larger ones, are known for their inherently fun drives, and each of these SUVs possesses that quality, so you won't be bored when getting behind the wheel. On top of that, Mazda engineers work hard to introduce new, smart technology to their models, and these three have a ton of intelligent features that make them more convenient and safer. Read below about the designs and features of each!
Mazda CX-3
While the smallest of the three, the sporty Mazda CX-3 still has impressive head, leg, and shoulder room dimensions for each of the two rows, and it can fit a max 41.7 cubic feet of cargo with the rear seats down. Its compactness makes it a great city car, but it has the power and engineering features to let drivers cut loose on the highway.
It's the most affordable of the three, but drivers will find that even the base model comes standard with features like a 7-inch touchscreen display and advanced blind spot monitoring, and other trims have tech like an Active Driving Display. Is it right for you? Well, drivers that want to enjoy every drive while still having the ability to transport important items will struggle to find a better option than the Mazda CX-3.
Mazda CX-5
Jumps in power, standard features, and cabin space but also price and weight are what separate the Mazda CX-5 from the subcompact SUV above. It has even more room for each row of passengers as well as over 30 cubic feet of space behind the second row that is great for everything from golf clubs to groceries. It comes standard with LED headlights and a more powerful engine than you'll find in the Mazda CX-3 while offering other aspects, like a Bose® sound system, that the smaller SUV doesn't. While not as sporty, the Mazda CX-5 is still fun to drive, and it is a great option for drivers that need more space and versatility, which includes everyone from parents of growing families to retirees.
Mazda CX-9
The Mazda CX-9 dominates our car lot as this three-row SUV is the largest model we offer, but its size doesn't stop drivers from enjoying a captivating ride. Seven passengers fit without a worry, and they'll enjoy standard features like three-zone climate control, or you can fold the back two rows down for a cargo storage area that stretches over 70 cubic feet. Plus, its 250-horsepower engine lets you tow up to 3,500 pounds, which you can use for a few different trailers.
More powerful and spacious, the Mazda CX-9 also offers one of the most luxurious drives with its Signature trim that comes standard with a range of awesome features, like ventilated seats, as well as cabin materials, like Nappa leather seats. If you have a big family or constantly find that you're the one driving your friends around, the Mazda CX-9 is a model you should consider.
See Each of These Mazda SUVs and Test Them Out When You Visit Our Dealership!
Hopefully, you can use this info to narrow down your search for an SUV, but if you think of any more questions that you want answered, be sure to reach out to us by email, phone, or in person at our dealership. If you visit, our staff can show you these great offers in person so you can test out which design best suits your lifestyle. We hope to see you on our car lot soon!